Elizabeth Taylor's life-long love affair with Jewelry
Dame
Elizabeth Taylor
has been famous for her love affairs, seven husbands, acting career, perfume line, AIDS activism and nunerous awards. But her passion and love for jewelry has remained constant. She had recieved almost all of them as gifts from the men in her life. Amongst the
innumerable pieces of jewelry she had
, one of the talked about is the 33.19 carat Krupp diamond and the 69.42-carat pear shaped
Taylor-Burton Diamond
which were a gift from her ex-husband
Richard Burton
.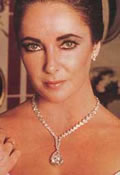 Elizabeth Taylor wearing the Taylor-Burton pear shaped diamond pendant
Her enduring collection of jewelry has been eternalized with her book
"My love affair with Jewelry"
where she us on a tour of her astounding jewelry collection. 'She writes "I mean, how many young women get a set of rubies just for doing something wholesome like swimming laps? Or win a diamond ring at Ping-Pong with their husband...? Well, I did, and for all of these memories and the people in my life I feel blessed."'
Apart from writing this book, to share her celebrated passion for jewelry, she has partnered with Jack and Monty Abramov of
Mirabelle Luxury Concepts
in Los Angeles, California to introduce
House of Taylor jewelry
. "Something wonderful is about to happen" is the passion of the brand.
"Something wonderful is about to happen"
--Elizabeth Taylor
Keywords:
Elizabeth Taylor
,
book
,
jewelry
,
passion